Life Still In [Mirror 070]
Mar 21, 2023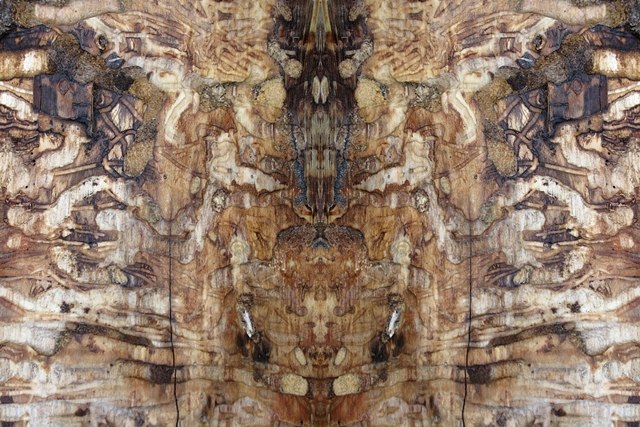 This is an image from the snag of a large old tree which came down decades ago. It is still standing here, waiting for us to notice and see.
I see a lop-eared rabbit. I see a butterfly. I see a man in a winged helmet. I see a skull. Just now I see a man holding a happy child.

I see beauty and joy and the mystery of every change of perspective bringing a new image into focus.
I see life.
So much life.
Still here.
LLH
---
My first thought for a title for this Mirror was Still Life In Shades Of Brown. It took about thirty seconds to realize that didn't honor the strength this magnificent tree still holds and the life that it shelters even after it's "death". Life Still In is exactly perfect for the quiet presence it left here with us, and it reminds me to respect the small things.
LLH; 2023


Life Still In is Mirrored from a photograph of an eight inch section about five feet up from ground, and it would have taken two of me to reach around. The snag is on private land in Corbett, Oregon, within 100 feet of the trailhead gate I had been going through several times a week for three years, before I noticed its beauty.

I did the puzzle this morning, and fell all the way back in love, with us not having spent any time in the same room in the ten years since we birthed Environ 08. It will be back in my studio this summer.
L,L
---