Sneak Preview (being proof that I am actually Getting There).
Aug 09, 2020


I am, actually, getting there.
I know, I know, this has been the longest ramp up to a new website in the history of the planet (it's not, yet, but play along). Poor Meeko, he promised everyone an Announcement for my birthday (June 12, if you lost it in the mists), and then a bit later, and then he gave up and has taken to not appearing to speak for me at all. Which has increased my communication workload significantly.

Here's the deal.
For ten years my website had an image with a name, and a price.
Every one of you knows I have a whole lot more to say about everything I touch than that.
So I decided that this website will open with the small stories about every piece that's on the website.
That each piece of this work I love will have at least a bit of its story in my voice.
Here's the rest of the deal...
I'm getting at least the known favorites (yours and mine), in all Series, up to start, and we'll build from there. I honestly have a much larger body of work than I realized (and am bestowing Grace on myself for only having posted image,title, and price up to now).

Sidebar: I also didn't quite "retire". (There's no retire about it, but I'm excited soon, for the first time, to be able to invest all the hours and energy and love I've put into the hotel into my own business). Another week or two of transition from hotel to Loree, and we're there..
Yes, There Is, In Fact, A Sneak Preview...
As I'm working on the website, I occasionally grab my phone and pop out to see the site as you see it, and to play with the cool stuff (not often mind you, but today I did). I want to give you a glimpse of what's waiting on the inside...
This is Mirror 1272_The Spirit Of The Creek. Pic Yes, the Mirrors now have actual Names, in addition to their numbers.
Because everything with a place in the world has a Name, and the Mirrors have been living with only numbers too long.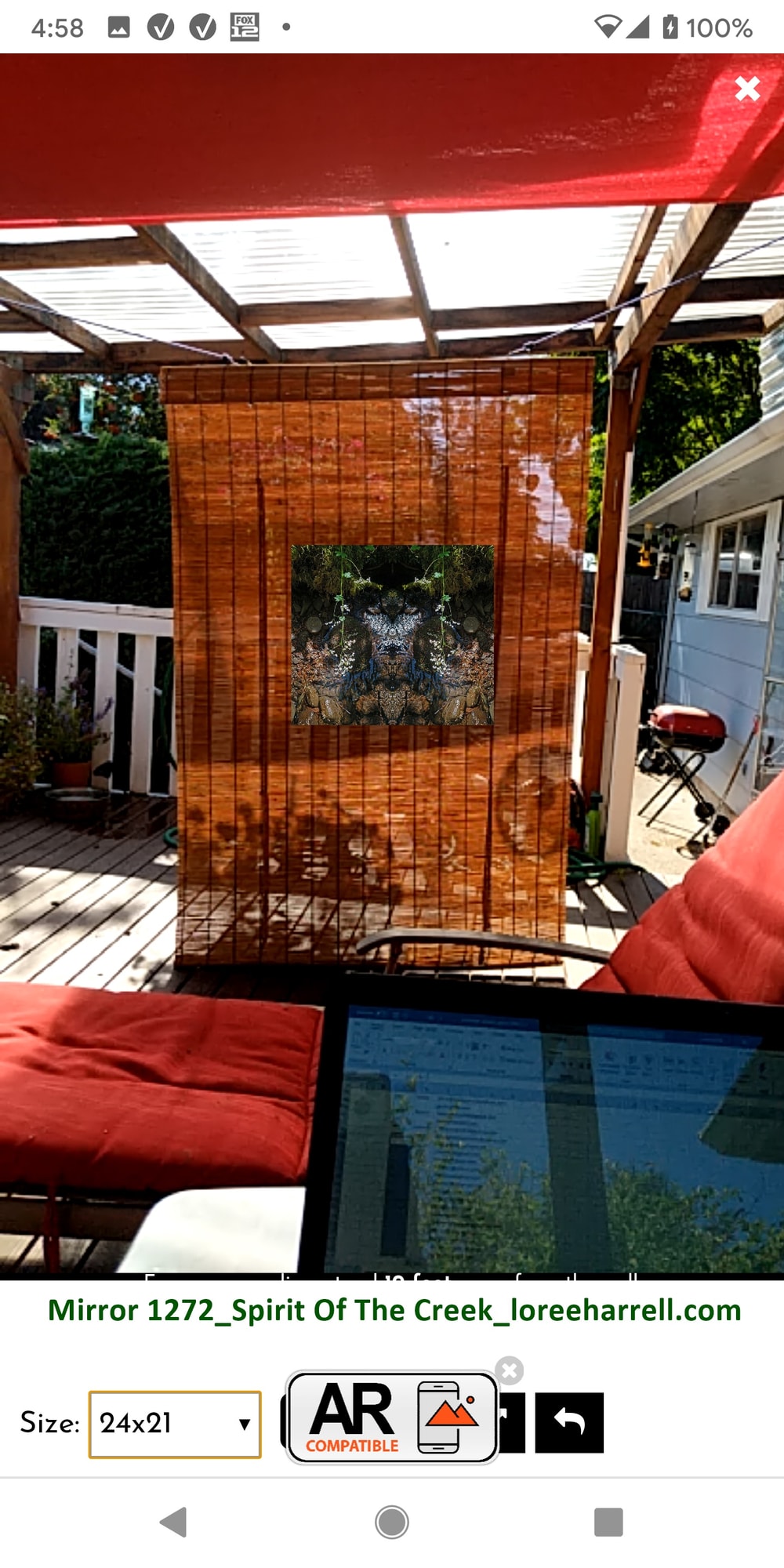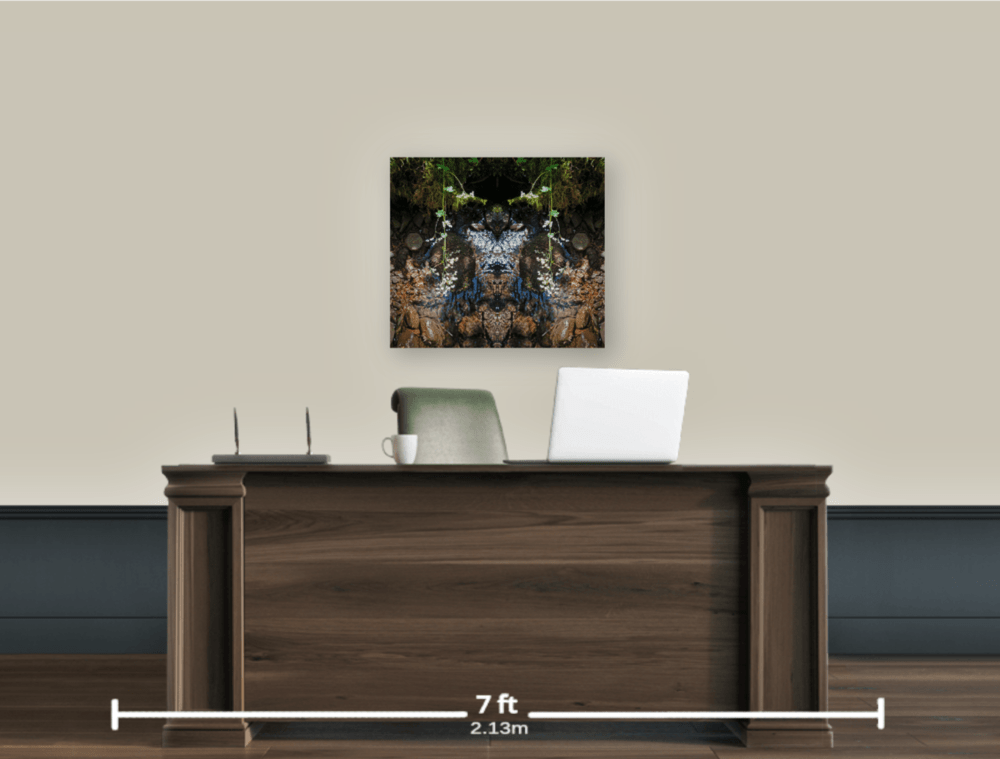 1) On the left above, you will see the first view of Mirror 1272 on the website (minus some story, because, well, it's a Phone screenshot.).

2) On the right, welcome to Augmented Reality! You're looking at a 24x21 metal print of Mirror 1272 hanging on a bamboo shade, which I have strung from bungie cords to shield my workspace on the deck from at least some of the afternoon sun. The bamboo shade is ten feet away from where I sit.

Which, coincidentally, is exactly how far you need to be, to be able to pick a favorite piece of art, point your camera at a surface and play with the size, and have the image of the favorite you picked show up "hanging" there on the screen of your phone. Where you can screenshot it for reference :).

[Please don't plan to actually hang your 24x21 metal print of Mirror 1272 on a bamboo shade strung with bungie cords. Stability is your friend. Really fun to play with, though - Meeko looks great with an 8x10 of Closing Time Dog on his back :).]

3) Lastly, you see the same size print in the office Room Preview function. You can change the room and wall color and everything!

Not least, I have opened registration for the Website Opening Giveaway for you...
Get your member registration or email in now for a headstart on the Website Opening Giveaway, which will officially start on August 12th (hey, that's only two months from my birthday), and I'll let you in early to start picking your favorites. The winner of a $500 gift card will be announced on August 22nd, and you can use it for anything you love in any Series, at any time.
* Please note that if you feel like you're already on the mailing list (not sure how you'd know since it's been what... like eight months?), I request you sign up again. I'm not going to inundate you, but there are going to be some inner circle events [Treasure Hunt!] that I want you to have access to, and I want to make sure the information I have for you is current.

THANK YOU for your patience with the process. It's going to be fun, promise.
L,L